It's an exciting time to join our nursing and midwifery teams at ESNEFT as we look to improve and develop the ways we care for our patients.
Opportunities for committed passionate nurses to begin or continue their careers are available.  We can offer you the chance to work in an acute or community hospital or community setting across East Suffolk and North Essex.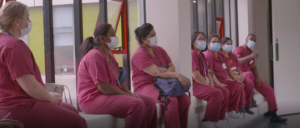 We encourage our nurses to provide the best possible patient care by helping you grow, learn and develop to reach your full potential.  Advanced clinical practitioner roles are available and being developed to allow you to take on expanded roles and scope of practice.
All our newly qualified nurses receive an excellent preceptorship programme to help with the transition from student to qualified practitioner.
We offer rotational posts which enable you to obtain experiences across different specialities and settings.
Maternity services are provided from both Colchester and Ipswich hospitals offering onsite and community based care.  Running from pre-conceptual counselling through to postnatal outpatient care, our maternity services afford our midwives opportunities to specialise.
If you are considering joining us why not contact us to arrange an informal visit and discover for yourself how rewarding being at nurse or midwife at ESNEFT can be.
View all the Nursing and Midwifery vacancies
Back to top